Dear A1 Support Community,
as we have lots of requests by internationals about our B.free product, we wrote this little description for the A1 Support Community in English. We hope this gives you a good understanding about how to buy and use a B.free product and if you have any remaining questions, post them in this thread and we'll get back to you with an reply.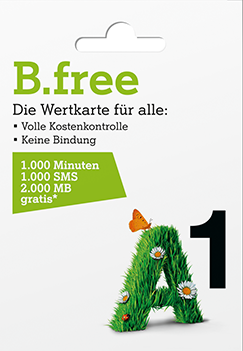 What is B.free?
B.free is our line of prepaid mobile data and mobile phone services. You can choose between a prepaid card for mobile phones and one only for mobile data access which can be used in tablets and mobile data sticks.
Where to get B.free?
B.free comes within a B.free Welcome Package which costs € 9,90 (including VAT) and you can get it from any of our A1 retail locations, franchise partner, Austrian post offices and select retail partner. The complete lists of all shops and chains offering our products are available
here
.
What is included within the B.free Welcome Package?
The B.free Welcome Package for mobile phones includes € 5,- worth of credit preloaded. The B.free Internet Welcome Package offer 5 GB of domestic data, valid for 30 days. For recharching credit you can choose between three options: Topping up credit in an A1 shop, by means of a coupon code which you can buy at our retail partners and online via credit care. For further information about recharching up your credit please go to the
B.free site on A1.net
.
How can I check my current credit?
You can check your remaining units and current credit by simply pressing *101# into the keypad of your phone and to press the button to make a call. Shortly afterwards, your credit will be displayed. You can also call the toll-free number 0800 664 2903 with your B.free mobile phone for receiving your credit information. Finally, there's the possiblity to download the Mein A1 app (
Android
,
iOS
,
Windows Phone
and
Blackberry
) which also shows your remaining credit.
For more information, please visit the
product page of B.free on A1.net
.
Thanks for checking out this post and have a great day! :D
Esther